Hi all.
Just returned from a small month holliday to Malaysia. mainly to see orchids and Nepenthes.
On the Dutch forum where I'm a member of its a tradition that I make a photo story about what I've seen. Maybe you like that to.
This trip was a bit of a surprise to me as very shortly before I got the invitation to join Rianne Wubben and Yves Veniat (Of Ryanne orchidees in France) on a trip to Malaysia.
First I decided not to go but then again.... This was a very good oportunity.
So after buying a new camera and some research about the native flora it was soon time to go.
My personal main goal was to see Corybas in the wild and also to explore the world of the carnivorous pitcher plants Nepenthes there.
I choose these two groups as they are relatively small compared to "orchids in general" and since Corybas and Nepenthes have quite high standards for their habitat, visiting these would mean that we would certainly come across many more orchids and other interesting plants.
After our arival in Malaysia's capital Kuala Lumpur we directly flew to Penang where our friend and fellow orchid grower Michael Ooi picked us up.
Michael Ooi is well known for his nursery AA orchids (or Ooi Leng Sung Orchids) wich is now run by his son Benjamin.
Michael and his family gave us a great welcome in Malaysia wich meanth a lot to us.
Penang lies in teh Northeast of Peninsular Malaysia and is for Nepenthes lovers well known for it's red form of Nepenthes albomarginata wich grows near the summit of Bukit Bendera on Penang Island.
Since we where in the "Neighborhood" a visit to this hill could not be missed. And so we went up with the funicular railway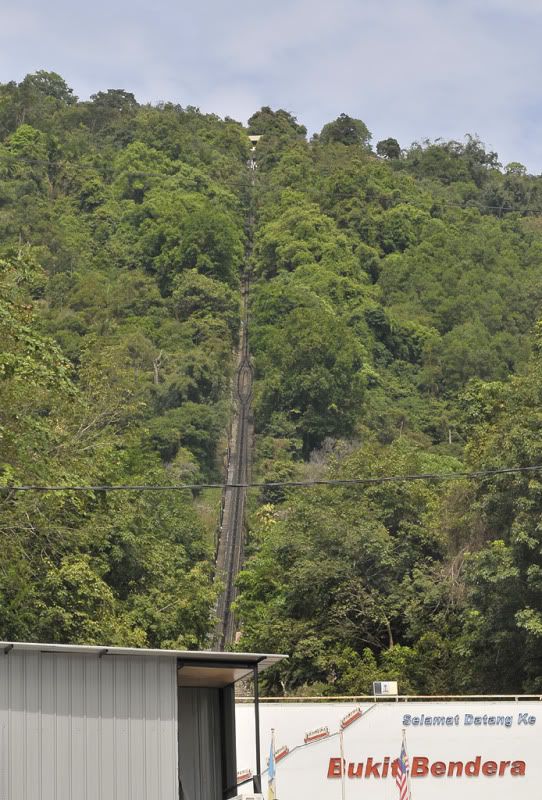 First we went to our hotel to drop our luggage and to have some food. During our lunch the hotel staff told us that snakes could be sleeping in the climbing vegetation above our heads. And it did not take long to spot a beautifull pitviper sleeping above the stairs.
Pit vipers are deadly snakes but above our heads in the vegetation not really dangerous as they are not at all atracted to people.
So this was the reason of the nature minded hotel to leave them alone. And it is great to see that such a method works well.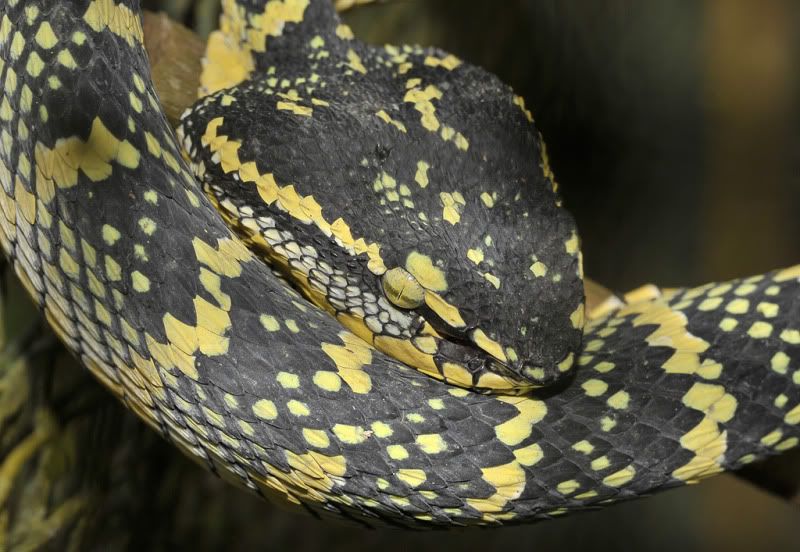 A local guide picked us up later. And teh search was on for orchids and of course the red Nepenthes albomarginata.
Well, that didn't take long
Here you see a typical red pitcher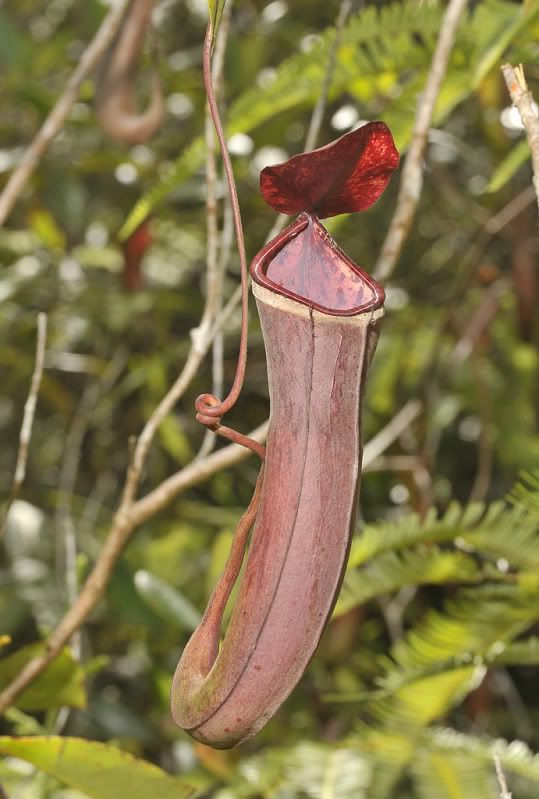 At this moment it was the dry season in northeastern Malaysia wich meanth that not many orchids where in bloom. However on a rock in teh deep shade we found this Dendrobium aloifolium.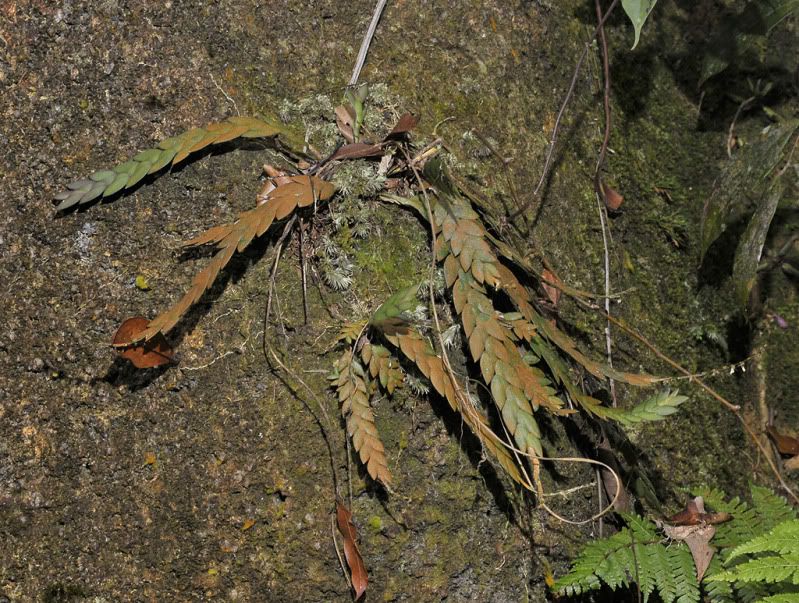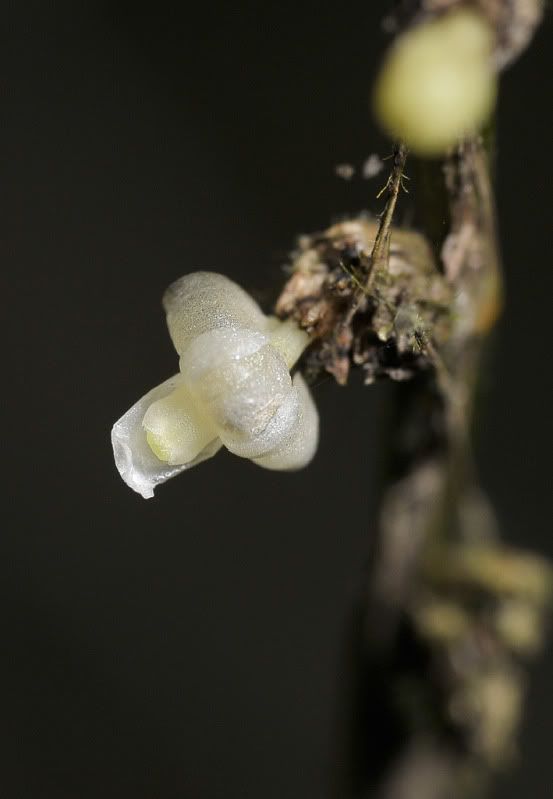 This Podochilus species had an even smaller flower
The plant covered a rock and looked more like a moss than an orchid.
After seeing a lot of nice plants whe went back to the hotel
That night our friend the pitviper was awake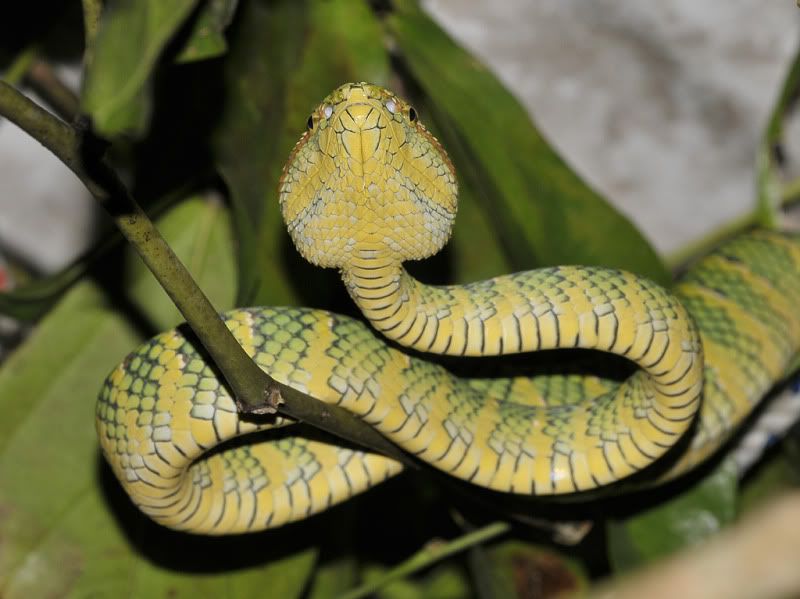 The next morning this was our view.
here you see Georgetown on Penang Island, The bridge to the mainland and the mainland in the morning mist
On the street we encountered a large Emperor scorpion. It looks dangerous but it's not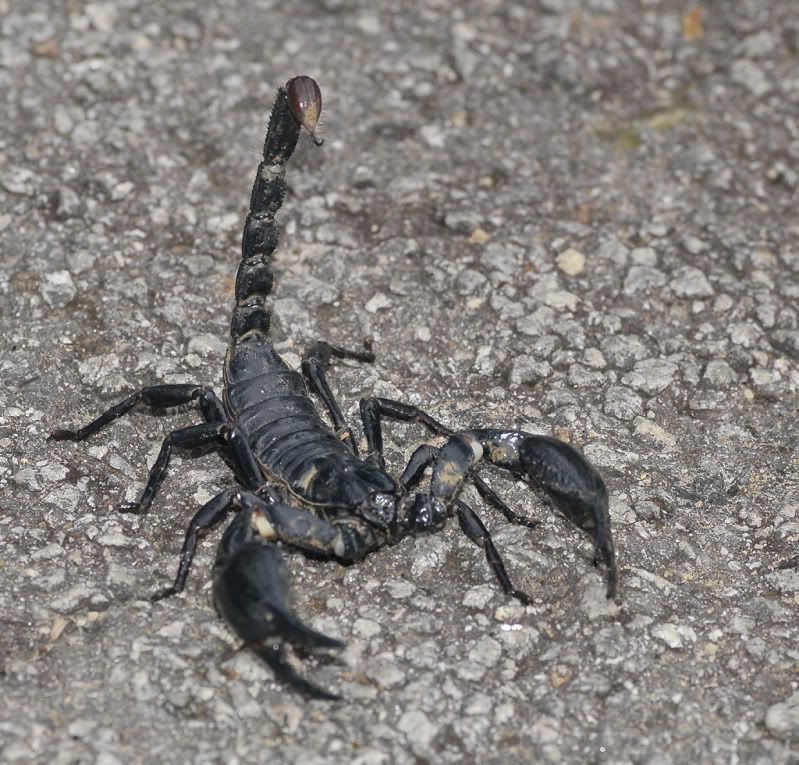 That day we had the wish to see paphiopedilum barbatum in the wild. Penang island is home of a very good form of this species but was thought to be extinct for a while.
Luckily some people still know where they grow and our guide was one of them.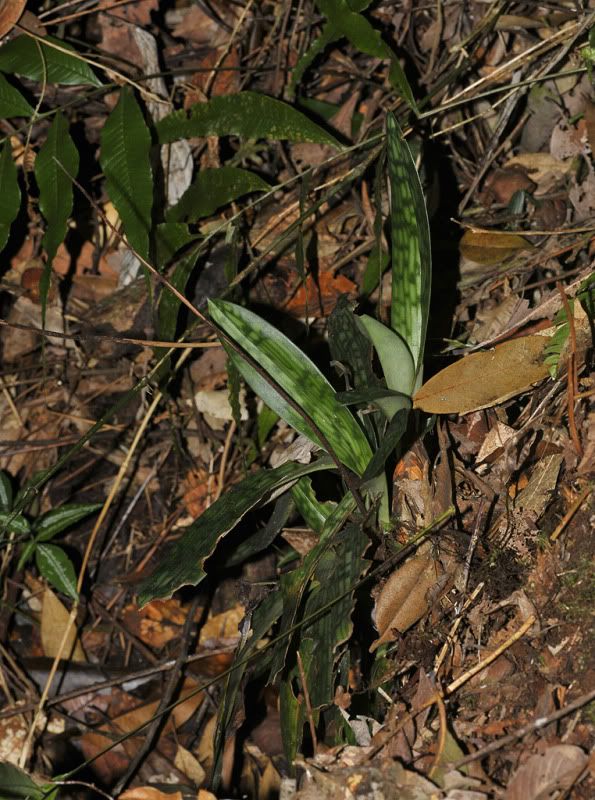 Sadly it was not teh blooming season. But seeing a slipperorchid in the wild is always something special.
Right on a path grew this beautifull Goodyera species.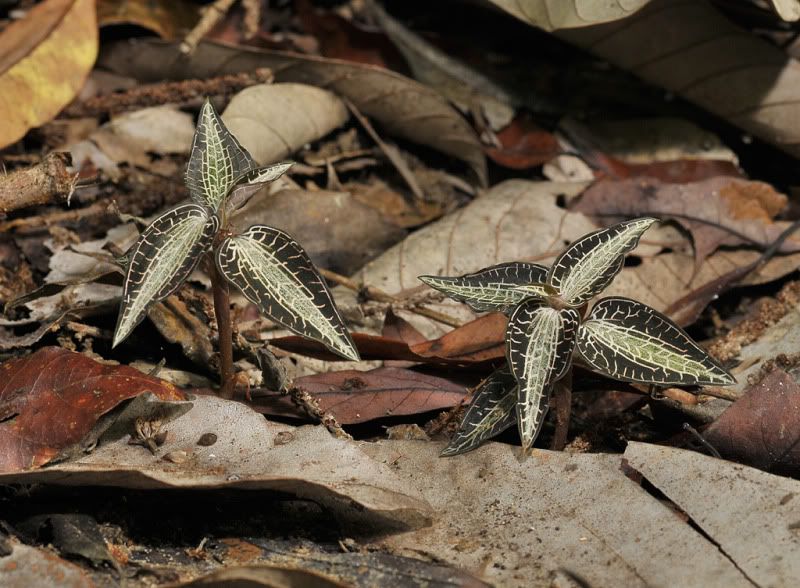 Probably G. hispida. A true jewel orchid.
High up in the trees grew these massif staghorn ferns. Platycerium coronarium I have been told.
A monkey.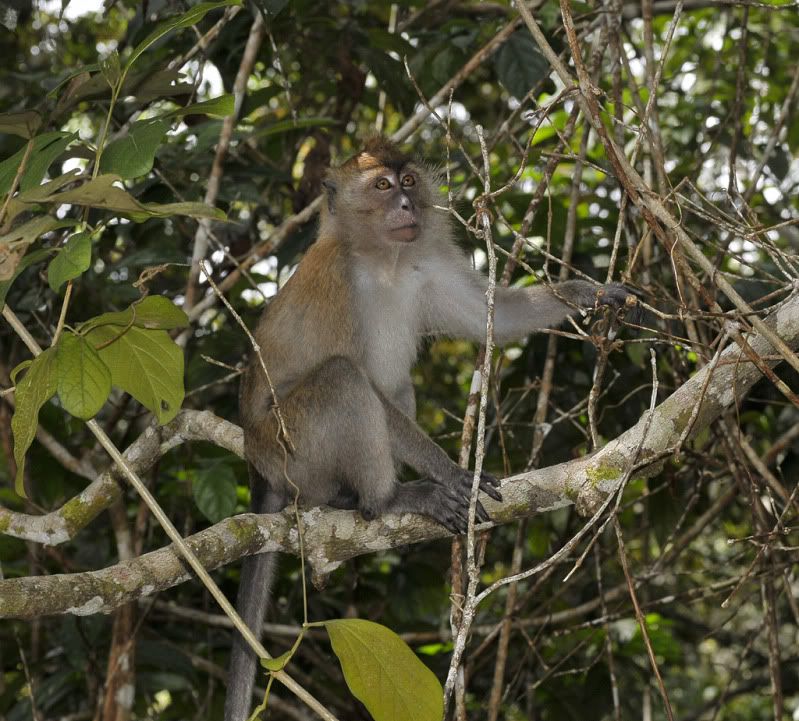 Personally I'm not so fond of these naimals as they can be rather agressife. I rather be in a forest with hundreds of those emperor scorpions than in one with these monkeys because I know wich animal is more dangerous
.
It was getting dark. But our guide knew about one orchid that we absolutely HAD to see. "The Tigerorchid"
There are many orchids that can pass as tigerorchid so I had no idea what he meanth at first but after he pointed us to a plant high up in the crown of a enormous tree it was very clear what it was.
There was a the most gigantic and monumental specimen of Grammatophyllum speciosum I have ever seen. It was at least 6 meters from left to right
It was not dificult to make a picture at that hour against the light but I hope you get a picture of the size of this monster.
Our next destination is Gunung Jerai or Kedah peak. Rumors say that one day the rodasides where home of Paphiopedlilum callosum var. sublaeve.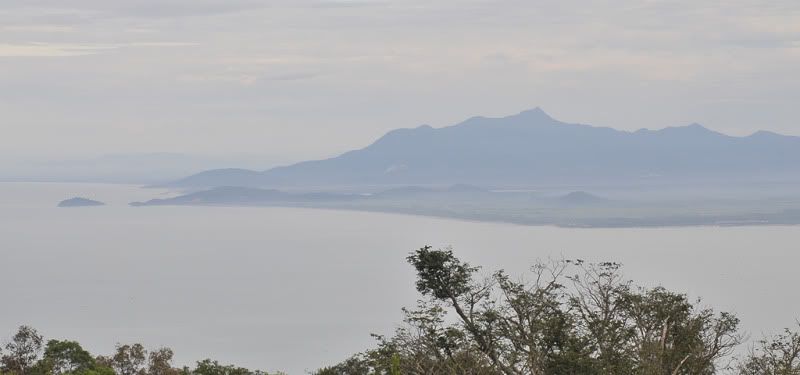 To be continued.
Rogier