I'm glad to see that people found this tread although it has been moved to another (very quiet) area of the forum.
For a moment I really thought that most of you where gone from reading this topic.
Never realised there where some silent watchers. Nice to know you are there though and maybe this topic will result in a visit to Malaysia one day. because believe me. there is SO MUCH more to see than that things I show you. But you need a year to photograph and document all the stuff you see in a week there.
@ Wahaj. Most plants that we cherish here are indeed not so "special looking" in their natural habiat. Even the Nepenthes and Coelogyne's blend in well in their habitat. But seeing them in their habitat does indeed sometimes explain their shapes and colours.
Some plants do look weird though. I photographed one of these on Borneo and you will see it in the post after this one. It looks from out of this planet wherever you see it.
@Pharfignewton. Well to be honoust I onlt photograph because I like to have the things that I see or grow on a photo. I never did any courses. neither do I know 80% of the functions on my camera
. But basically you can say that with nearly all of my photo's I set it on Manual photographing as I hate it when the machine starts to think for itself and aim to get the highest shutterspead and dept as the light permits. This is the benefit of a digital camera as you can make a photo and do it over and over again. Also I never use autofocus as it often has a different opinion of what should be sharp or not than me.
Finally I ALWAYS use a flash. I cannot rememer taking a photo without it. It simply makes faster and sharper pictures but I manly use flash to put teh focus of the photo really to the subject by using a flasher on a whire wich I can hold at any distance or angle to teh subject I desire. This way I turn the flasher into an artificial sun and lights the subject up to give a portrait effect. You never have to guess what the subject of the photo is.
This way of photographing means that you absolutely have to make multiple shot of one thing and decide wich one you liek best later. As my camera had BIG issues in the later parst of my travels in malaysia I sometimes could only make one photo per subject (after which the camera was off the world for a while) This menth that I could not do any selection and many of the folowing pictures are not something I'm very happy about. (You'll see what I mean)
@ Craig. I hope you manage to get to the Cameron Highlands. Then you can make a Malaysia part two here
.
And teh yourney continues.
We arrived at Kota Kinabalu on the island of Borneo with the plan to climb Mt.Kinabalu.
This highest mountain of Borneo is around the 4000 meters high and therefore the highest mountain between New Guinea and the Himalaya's
It's not difficult to climb but even a climb like this can also be dangerous and also because Kinabalu National Park is a protected area you need a permit and a licenced guide to enter the park and climb the mountain.
Before we went to Malaysia I contacted Amrin Gupili. This was a good advice of Antony van der Ent. A fellow Dutchman who knows a lot about plants and been to Kinabalu several times for his work.
Amrin runs a homestay together with other members of his village. At this homestay you stay with the local families in their house and (if you want) can do all kind of activities typical to this area and the local people.
His brother in law, Hali is also a very experienced guide who exactly knows where to go for the special plants.
An excellent combination to explore the Kinabalu area in the 5 days we have in Borneo.
For anyone who is also interested in such a stay to Kinabalu. This is the website of Mesilou homestay
http://www.mesilau-homestay.com
Sadly the weather was not so good. The good part was that in the five days we where there we only had one rain shower, The bad part was that that shower lasted 5 days
.
Not once could we actually see the whole mountain because of the clouds and mist.
We only had two days on Mt Kinabalu itself. One day to go up and one day to go down.
Between these two days we stayed at the weirdest hotel I have ever been. This Hotel named Laban rata is situated on an altitude of 3272 meters and can only be reached by foot. There are two walks to do this. The easier and most commonly used path of about 6 km's and the longer route of about 8 that first goes over a smaller peak. We took this last one as it goes trough area's of ultramafic soils much more often than the short track.
Ultramafic soil is a kind of soil that is rich is heavy metals and therefore poisonous for most plants. However there are always plants that can grow here and can not compete with the normal plants in area's that are not ultramafic. Many of these plants are endemic to the Mount Kinabalu area. Including several Orchids and Nepenthes.
Kampung Mesilou, The small town where we stayed is situated nearby such an ultramafic area. And because we couldn't climb Kinabalu yet we decided to look around in this area.
Hali our guide told us that this is an extremely interesting spot for Nepenthes which is situated on a hill that we could reach after crossing a small stream. Especially the rare species like N. burbidgeae and it's natural hybrid N. x alisaputrana which both only live in the Kinabalu area, make this trip well worth the effort.
It was a small drive from the village to the entrance of the forest where we started our hike.
The start was already very interesting as a small ditch we had to cross turned into a stream. Luckily I brought my boots from home (you cannot buy my size in Malaysia).
Orchids that despite the heavy rain and my randomly defect Nikon still managed to get on a photo where (among others) this bright yellow Calanthe.
And this large Goodyera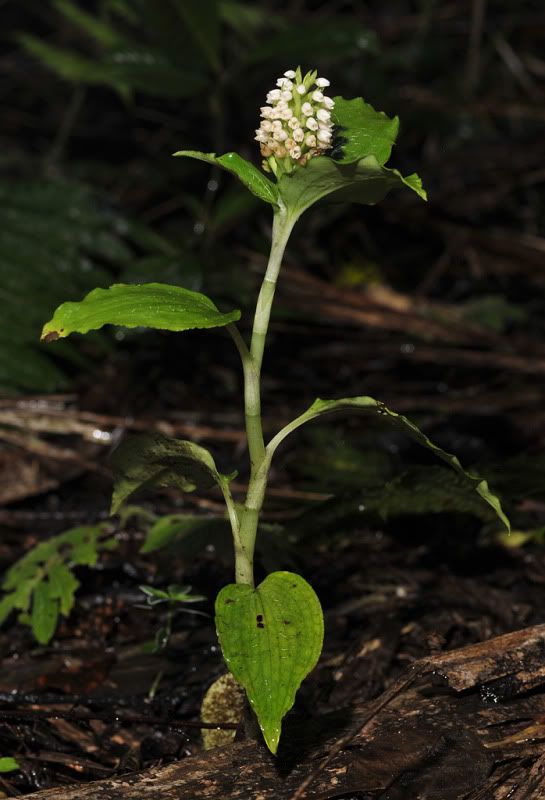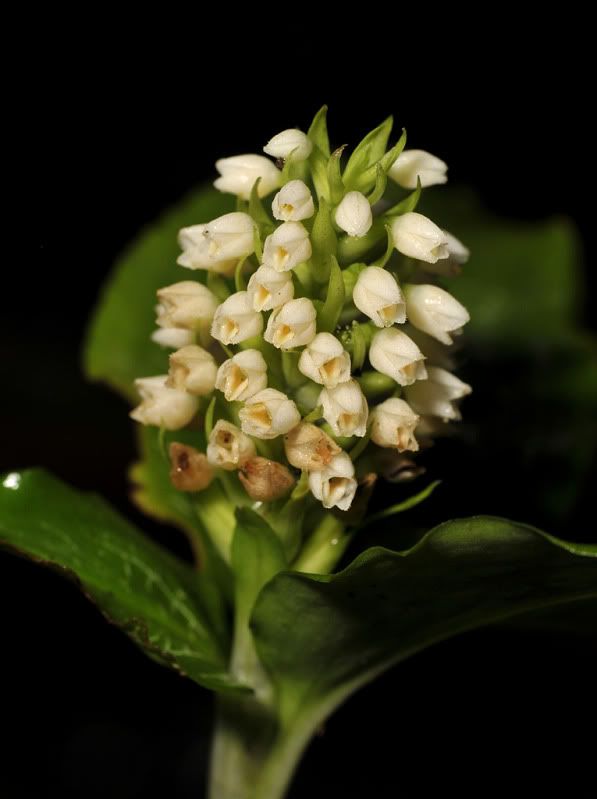 When we came close to the stream we had to cross, the heavy thundery sounds in the distance did not predict any good news.
Hali went to the stream to have a look. A few minutes later he came back. The stream was now a dangerous river because of all the rain and with the Camera's it was not wise to cross it.
Sadly no Nepenthes
. How disappointing
. I really looked forward in seeing N. burbidgeae and x alisaputrana in the wild.
However Hali told us that there was a nice plant of Nepenthes fusca on a little hill nearby. N. fusca is far from rare but since Rianne, Yves and I did not see it yet it sounded like a good idea.
During the climb of this hill I noticed some small leaves that sometimes even grew right on the track.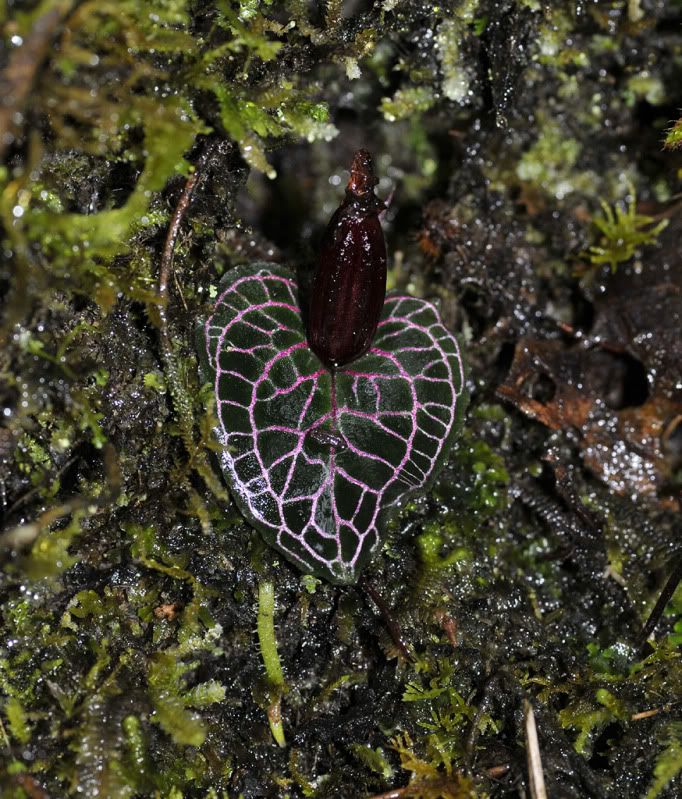 This where clearly Corybas. Probably even C. pictus, the species I grow at home and really hoped to see in nature
This plant has a fruit
Just a few meters further was the Nepenthes fusca.
"what an odd fusca" I said to Hali. "It looks a LOT like a burbidgeae". Ah well I had never seen any of these species in real live before so I believed Hali
Even though we would see fusca later on Mt Kinabalu itself I still made some pictures as these two pitchers together looked rather nice.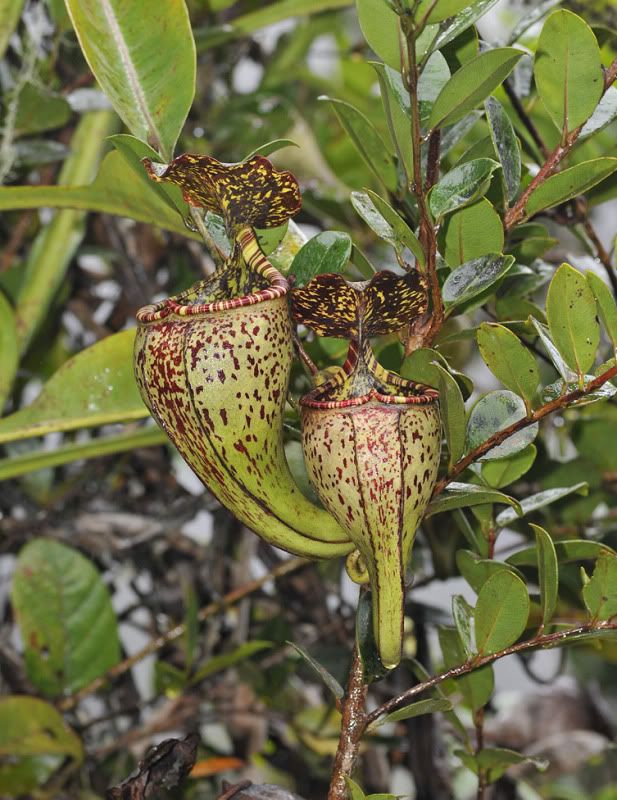 Riane en Yves also took some photo's and during this I sneaked off to see the Corybas again. I wanted to look if I could find any in flower
And Yes!!!
. Under a fallen tree trunk. Protected against the heavy rain.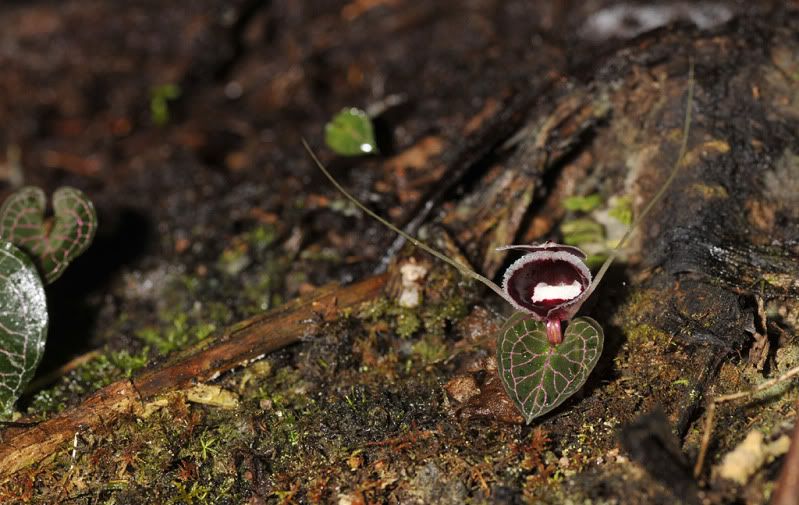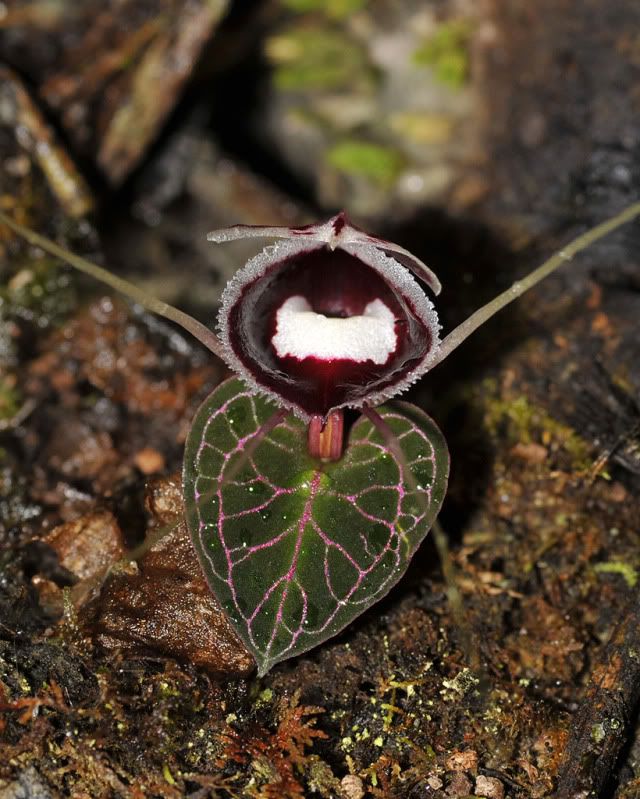 later we found some more on a mossy bank
What luck!! Yet another Corybas in flower!!
Because of our great finds and (for me in particular) the Corybas, the rain was soon forgotten when we arrived at the house where Hali and Amrin live. I got my Nepenthes book from my suitcase to have a look at the N. fusca.
Hey!! The fusca looks indeed different. Lets have a look at N. burbidgeae.
Could it be??
The pictures of the N. burbidgeae looked as if they where made of teh exact same plant.
We did manage to see and photograph the very rare. N. burbidgeae.
Now this day was really perfect.
The day we started to climb Mt. Kinabalu was.. Well... Wet.
So it was time for the boots and raincoats again. Armed with a umbrella we started our climb.
The path was due to the rain extra 'decorative' as it was transformed into an 8 kilometre long waterfall
.
But we never really cared as there was so much to see.
A very common species along the track is this Chelonistele kinabaluensis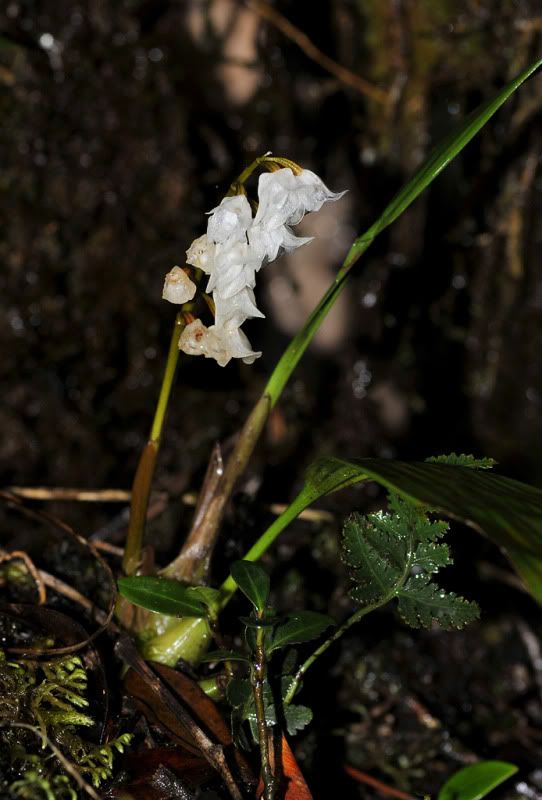 A Pholidota
Nabaluia angustifolia. Together with the two species above all relatives of Coelogyne. A group of orchids that is surprisingly dominant on this mountain.
This is the real Nepenthes fusca. The species is common here but not so often seen as the pitchers usually grow high up in the trees. This was the only nice pitcher on eye level and Hali had to hold it to face the camera.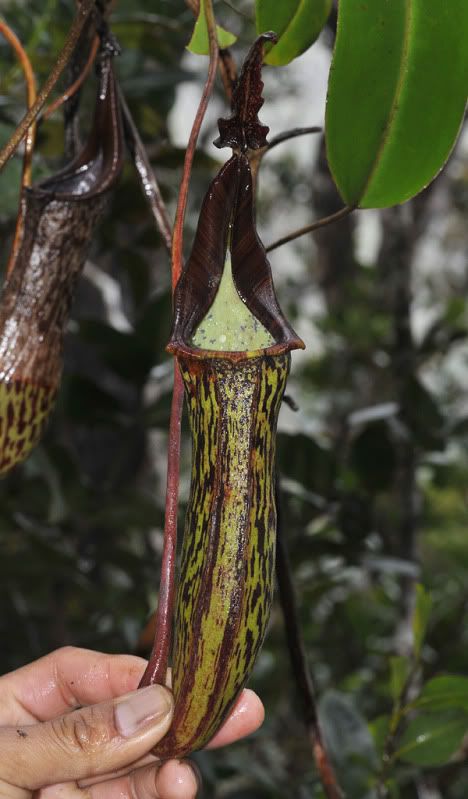 Nepenthes tentaculata. Also one of the common species and a very cool one as the small pitchers have hair like 'tentacles' on the lid.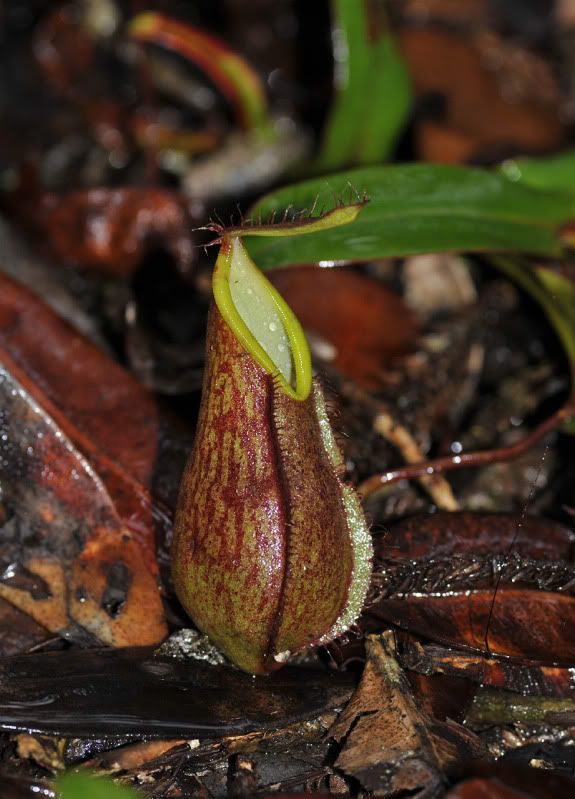 One very interesting tree that is very common here is the Phyllocladus hypophyllus. It's a conifer with very unusual foliage. What appears to be leafs here are actually very broad twigs. If you look carefully you can even see some small 'cones'
One of the most famous plants of Mt. Kinabalu is the Giant Nepenthes rajah.
This is a species that came make pitchers that are big enough to capture rats. recently this species has been in the news that its preferred snack is actually obtained by acting as a toilet.
Officially there are no plants of this species along the summit trail. But that's the benefit of a guide like Hali.
We where close to Laban Rata when we found this neat little Rhododendron cuneifolium The overall shape and colour of the plant and flower reminded me to a Punica (pomegranate) bush
Dinner was a buffet after which we dried our clothes with a hairdryer. Tomorrow we will go down. Time for more plants
Regards
Rogier