Thanks for the reactions.
@Pharfignewton. The popup flash works well but the effect is much better when you use a omni bounce to cover the flash. It reduces the strong reflections.
@nurseryman I think you will love this next post. It's full with Nepenthes and also has a ridiculous rhododendron in it
@Wahaj. I doubt if this Phyllocladus is hardy in the UK. It may get some frost in nature but that's only late at night. However there are some species native to New Zealand and Tasmania. Phyllocladus asplenifolius, P. toatoa and trichomanoides. I bet that some of these are reasonably hardy (especially the first one). Now how to get one!!! I have searched for them but they seem to be unavailable.
I heard that one species is grown at a pinetum (botanical garden for conifers) nearby. So I must check that out one day
The yourney continues
The original plan was to wake up at two o clock in the morning to continue climbing and finally reach the summit of Mt. Kinabalu. However we decided not to do that as first of all we mostly came for the flora and there isn't much vegetation on the top but mostly because the weather was so bad it was actually dangerous to climb it.
The reason to go all the way to the top is mostly because of the view. But with all the clouds around, the view would be just as good on the toilet
So we stayed in the hotel and after breakfast and some wild raspberries we started going down.
First thing I wanted to see and photograph was the Nepenthes villosa.
Nepenthes villosa is in my opinion one of the most beautiful species. It is a true highland species as it grows around 3000 meters above sea level. It's endemic to the Kinabalu national park growing only on Mt. Kinabalu and nearby Mt. Tambuyukon.
The species is not very rare and we had seen several plants the day before when we where going up. However since my camera had problems and it was getting dark already I hoped for some better weather and a working camera the next morning.
And that was the case!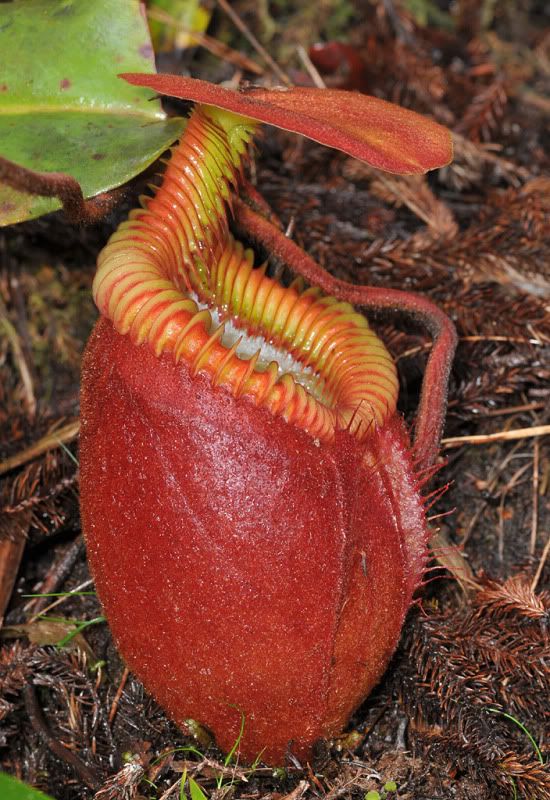 In the areas where N. villosa grows together with N. rajah you can sometimes find their natural hybrid Nepenthes x. kinabaluensis.
This plant combines the bright colours of the villosa with the immense size on the rajah.
In overall shape it's a perfect blend between the two.
On these pictures you cannot tell very well how large these pitchers are. So Hali held one of the pitchers up to show the size.
Nepenthes plants are either male or female. The N. x kinabaluensis plant was flowering.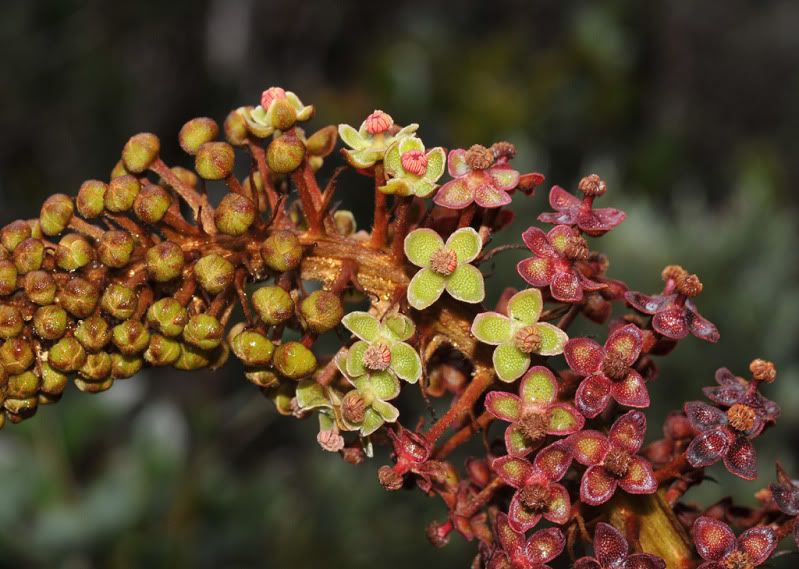 By looking at the flowers you could tell that this plant is a male as the flowers have no ovary and produce pollen
This altitude is also the home of a unique Coelogye. This C. papillosa is a terrestrial species perfectly adapted to the ultramafic soil. It's no surprise that these species is endemic here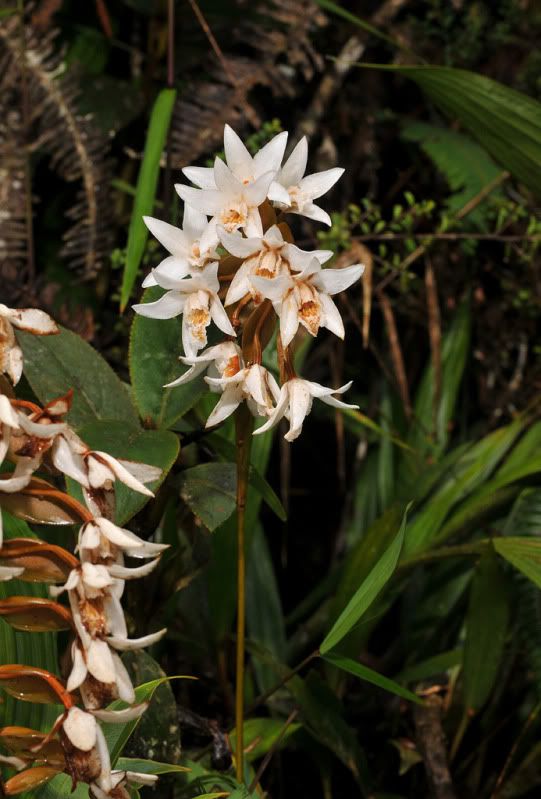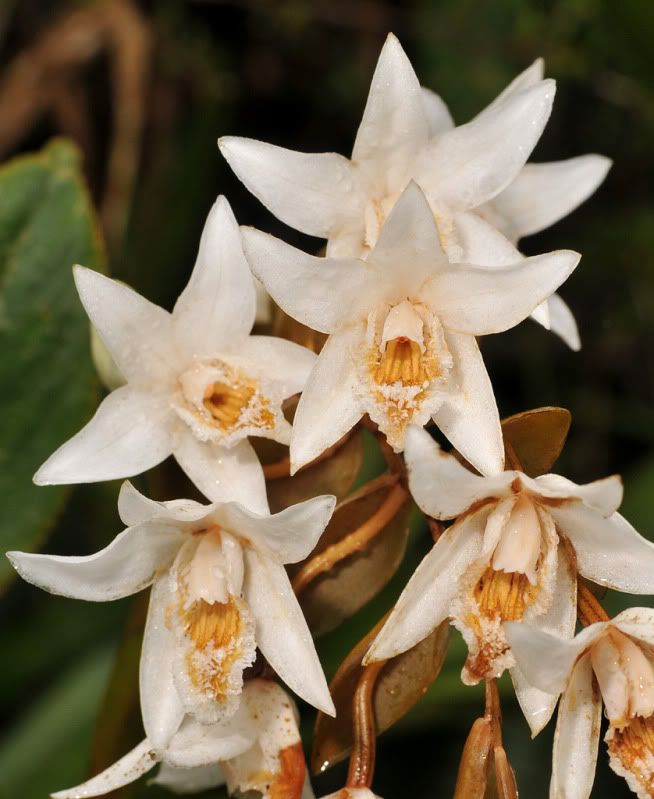 The plants do not look like typical orchids. They are almost a meter tall with thin erect flower spikes which gives the plant an odd look for a Coelogyne. I'm not sure if this specie sis in culture or not but it would be a good attribution. But I bet it's a tough plant to grow judging from where it's from.
Rhododendrons are abundant. In all colours except blue. Here it was a real shame that my camera didn't work properly as I would have loved to take pictures of all these species.
This one I managed to get a photo of.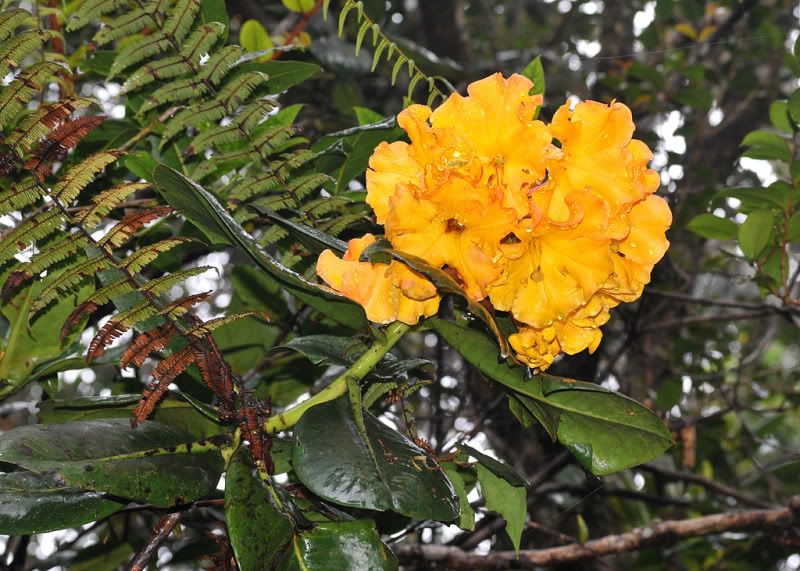 It's Rhododendrom lowii. A very famous species and for most people the most spectacular species. The size alone is reason enough.
A flower head as pictures as large as a football.
I'm not a huge fan of bombastic an orange flowers but I have to admit that they are indeed spectacular.
An odd bulbless Epigeneium that was flowering above the track.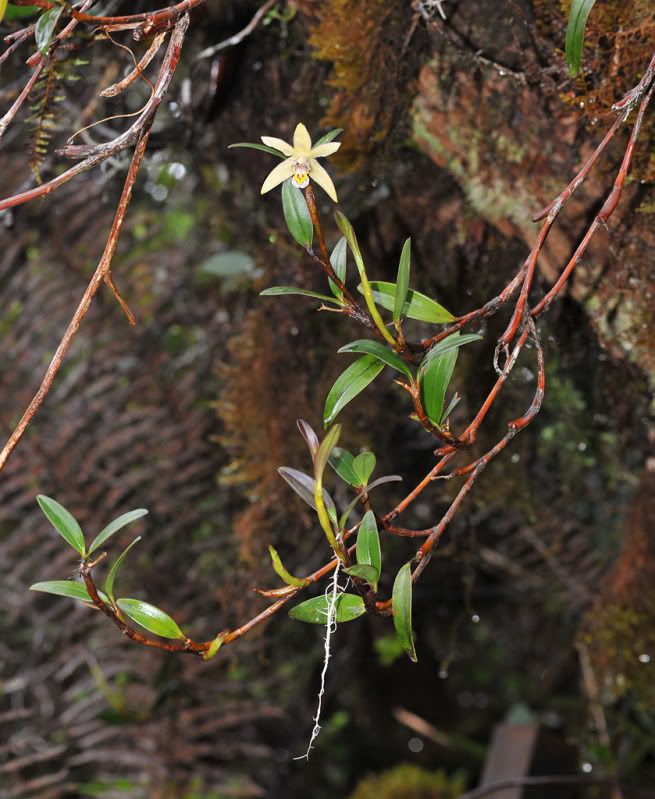 Hali told me later that there was a very rare nepenthes to be seen. But you had to go off the track for a bit to see it.
It was Nepenthes x. harryana, A natural cross between N. villosa and N. edwardsiana. This last one only grows on places that are more than day trip so that is something for another time. But at least we have seen it's natural hybrid.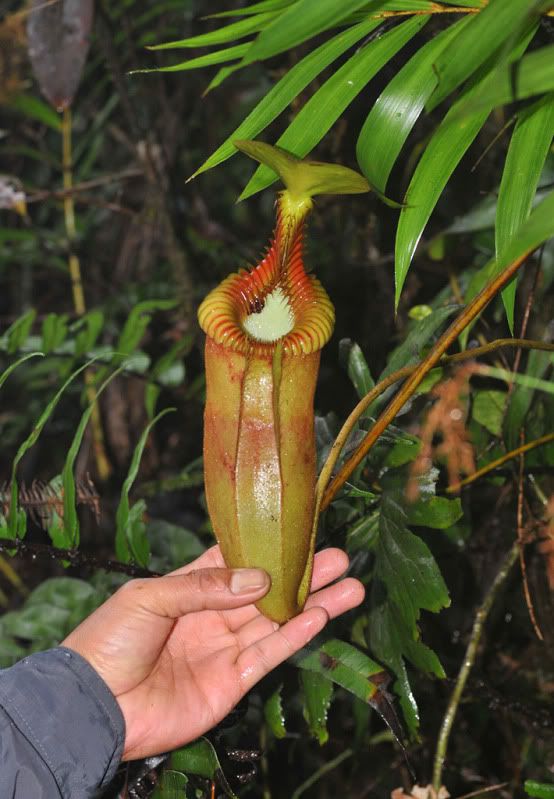 This pitcher has some frog eggs inside. You can see them in the left upper corner.
Common in the area is Nepenthes tentaculata. In the previous post this species was also shown but the following two pictures show the differences between the lower and upper pitchers of this small species.
These are the lower pitchers.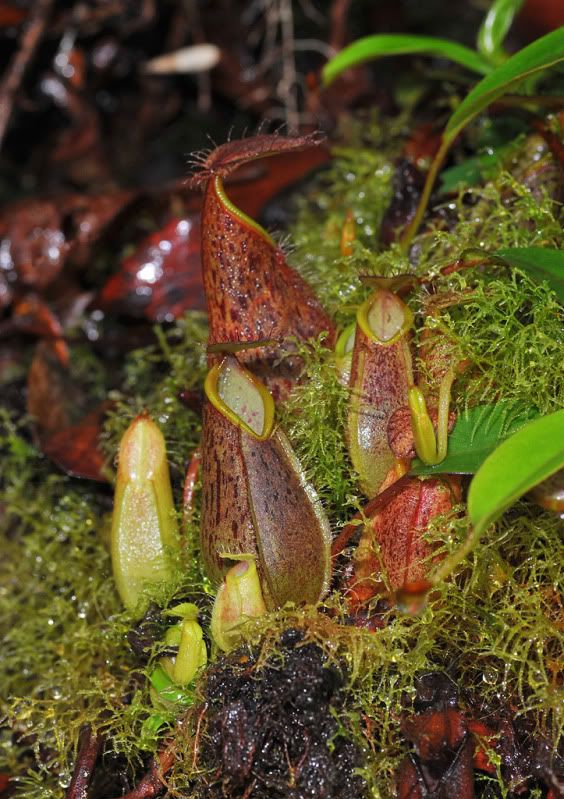 And these the upper ones.
You can sometimes find both on one plant.
The hike down was nothing compared to the hike up. This was mostly because we took the shorter track down. When we where at Amrin and Hali's home again we decided to go to the Poring Hotsprings. These are volcanic springs not far from Mesilou.
I just took of my shoes and wanted to put them on again when Hali said.
"why don't you just use my slippers. Because it's only a small walk from the car to the springs"
Good idea!!. The slippers where to small for my feet but that didn't matter.
On the drive to Poring we made a stop as a sign near the gate of a local farm said.
"The Rafflesia is flowering!!"
Holy $#!%!!. That's is a coincidence. The Rafflesia (keithii) is a rare parasitic plant that grows inside the root system of a local grape relative. So now and then flower buds are formed.
Only very few of these survive the many month long development to a maturity after which they unfold into one of the largest single flowers in the world that only last about 3 days.
So seeing a Rafflesia keithii in bloom is a chance not to be missed.
We asked the people of the arm if they could show us the plant. It was flowering in a patch of forest behind the farm where this plant was growing wild. (this plant cannot be kept in cultivation)
So we had to walk a while.
This walk turned out to be a great adventure as I was still wearing the small slippers of Hali.
After some slides down a steep road and some very interesting and very small bamboo bridges we witnessed a magnificent Rafflesia in full bloom
Wow!!
A perfect ending to our visit to Borneo. We flew back to Peninsular Malaysia where we spend our last days in the tropics enjoying the weather. (At that moment the temperature differences where 40 degrees Celsius.)
Next time Kuala Lumpur and the nearby Genting Highlands. The last part of this series.
Regards
Rogier